Now get Vajiram IAS study material pdf comprising 34 plus books & Vajiram IAS CSAT Notes. Crack 2023-24 UPSC Civil Services Exam with these genuine and complete notes. Vajiram IAS study material pdf package is all in one study materials to crack UPSC Civil Services Exam in first attempt.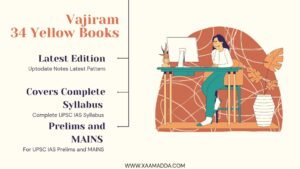 How to prepare from vajiram IAS notes pdf
First of all as an UPSC IAS aspirants , you should be very clear that why you are going in this career direction. Like why you want to join civil services post. Once you have decided to come in this particular direction. Any preparation strategy of any exam goes through three basic steps:
The first step is going through the UPSC CSE syllabus
Once you go through the UPSC CSE syllabus that is available on the UPSC website ,the next thing you should do is look at the previous years question paper , that will help you to realize how that particular syllabus is translated into question papers.
Books and Resources: Vajiram IAS study material PDF Is Recommended
After you have done the first two steps of going through the UPSC IAS syllabus and previous years question papers. You should enlist your books and resources which you are going to refer. Vajiram IAS study material PDF complete Package 2022-23 provides complete study materials. UPSC IAS Toppers also recommend Vision IAS Notes PDF. These books have all information that you needed to know to clear UPSC IAS exam.
Study Strategy: From Vajiram IAS Study Material PDF
The next step comes how you are going to go through these books that is Vajiram IAS study material pdf plus Vision IAS notes pdf. You can follow various methods like first is notes making. You can make short notes from Vajiram IAS study material PDF, so you can refer them before the UPSC IAS exam. Other method is highlighting the topics using marker, underlining it.
Whichever method suits to you, you can follow that method. You should prepare in such away that you are able to revise all important topics some days before the UPSC IAS exam. That should be goal of the entire preparation strategy.
You should at least try to solve previous years UPSC IAS Exam question papers in the given time. Initially you may not be able to solve all questions. But the the good thing will be that you will get some idea of the possible questions that is asked by UPSC IAS Exam. It will also help to analyze your weakness and strength.
Another important point here is that you should give equal time to all the UPSC CSE subjects. It should not be the case that you like a particular topic very much so you are giving it more time. You find a particular topic simpler or easier and you are allotting it more time etc.. Read all general studies books from Vajiram IAS study material PDF.
Optional Subjects: Provided by Vajiram IAS Classes
The choice of UPSC CSE optional should be based on two factors. The first factor is what has been your Graduation Stream and Second Factor will be what interest you.
The first step is looking at the UPSC CSE syllabus.
The second step is looking at the previous years question papers.
Third is to read Vajiram IAS study material PDF and Vision IAS Notes PDF.
Below are the list of highly scoring optional subjects and recommended by Vajiram IAS Toppers
Answer Writing Strategy For UPSC Civil Services Exam: Tips from Vajiram IAS study material PDF
After you have balanced your CSE General Studies preparation along with your optional papers. The next important step comes answer writing. The art of answer writing is very important. For this you have to refer to UPSC CSE syllabus. Because the UPSC IAS syllabus clearly mentions that the answers have to be meaningful , relevant and concise. You have to use various methods in this answer writing.
First is ,How you structure your answer writing. Structure should be such that your introduction should be quite catchy. It should have a fact. Then the body should be multidimensional. Answer Writing strategy have been given in Vajiram IAS study material PDF. The dimension of your answers comes from the GS topics itself for example GS-1 includes historical , cultural, geographical aspects. GS2 includes political, International, internal security and other aspects. GS3 includes environment ,science and technology. GS4 includes ethical aspects. Then you can refer to various stake holders for example nation, environment ,NGOs, law etc. This will help your answers to make more elaborate. Vajiram IAS study material pdf cover all the aspects.
The conclusion should be such that you summarize the entire things that you have written in your answers. As well as you can give your own suggestions as to what you feel about the particular question. You should also enroll in Vajiram IAS or Vision IAS mock test series.
Mains preparation: From Vajiram IAS study material PDF
Below are the three things that every UPSC CSE aspirants should follow.
First of all, making short notes from Vajiram IAS study material pdf of each and every syllabus.
Second, answer writing , test writing.
Third,Self analysis and self evaluation.
These three things we believe are universal for each and every aspirants of UPSC IAS civil services examination.
Syllabus And Previous Year Question Papers are the first element of resource list. Without these two your resource list cannot start. So whenever you are reading any topics from any books say Vajiram IAS study material pdf or vision ias notes pdf.

Plea

se keep both of these things in front of you. They will help you to understand what is to be read and how is to be read.
Less Is More– keep your resources relevant and limited. Please do not go for each and every resources that is available these days. Please keep that limited. Your limited knowledge will suffice. You do not have to be an expert in each and every subject. Vajiram IAS study material pdf with Vajiram IAS CSAT notes pdf are enough. If you study regularly and practice answer writing.
Read Vajiram IAS Complete Study Materials PDF and Vision IAS Notes PDF. Finally value addition materials.
What do we mean by value addition materials?
These are basically the current affairs magazines, newspapers, the editorials, any government reports. So these are value addition materials which adds extra value to your contents. Read them alongwith Vajiram IAS study material pdf.
Here two points are important. First, how do you divide your time between studying and practicing. Its very important to understand that in mains preparation half of the time must be given for preparing and practicing. Half of the time you should study and half of the time you should practice. In Vajiram IAS classes , aspirants do answer writing practice every alternate days.
You can practice by joining various test series like Vajiram IAS and Vision IAS test series. Because you will get approximately 9 minutes to write an answer on particular topics. So you should practice in such a way that you write concise answer in approx 9 minutes of time.
Conclusion:
Anyone can clear UPSC IAS Exam if one is regular towards studies. One should not form habit of gathering too many study materials. Keep your study materials limited and read it many times. Civil Services Aspirants should honestly prepare from Vajiram IAS study material pdf. Also, refer books of vision ias notes pdf with vajiram ias csat notes pdf. UPSC IAS aspirants should give equal time for both reading and practicing. Aspirants should choose optional subjects very carefully. For mains preparation practice answer writing as much as you can. Always be regular to the current affairs , for this read Vajiram IAS current affairs magazines.
Disclaimer:
There is No Any Copyrighted Content is available here. This Website is For Educational purposes only. We Never upload any type of Copyrighted Material nor host any Copyrighted Contents. We strongly recommend Students to support the real author or publisher of the respective books, study materials and buy all Copyrighted Material from legal source only. If any Institution / company feel that we are violating their copyright , then please write to us at [email protected] , we promise to remove that content from this website.