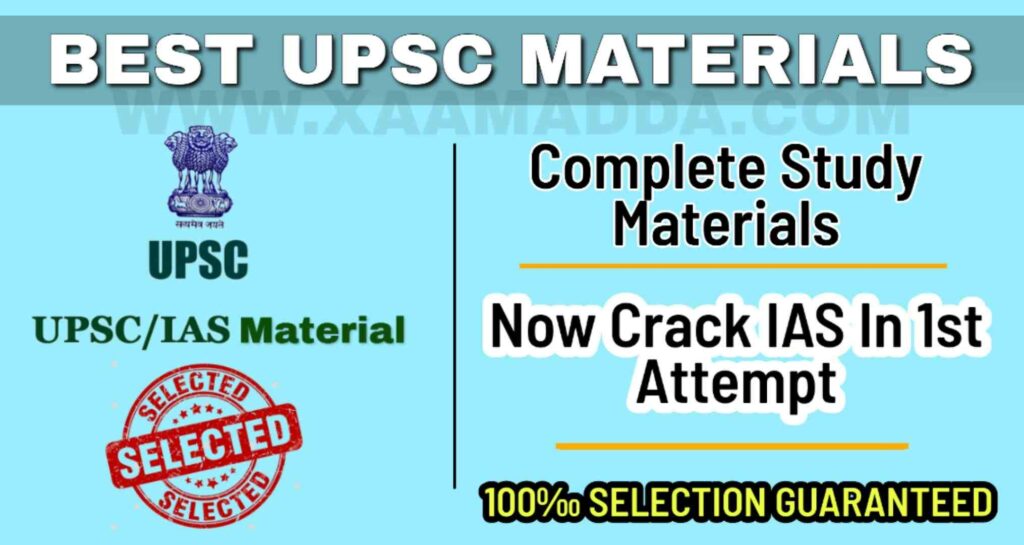 ---
Click here to get Best IAS Notes

"*" indicates required fields
If you want UPSC material , which would help you to clear UPSC IAS civil services exam in first attempt , then you have landed at right place. We provide best UPSC material which will include almost entire UPSC IAS exam syllabus.
When it comes to crack UPSC IAS exam, in first attempt , there are four main factors at play :
Proper guidance
To have best UPSC material
Regularity to your studies
Answer writing practice
In today's world of cut throat competition , where lakhs of aspirants compete for posts having qualification rate of approximately 0.1 % , you need best UPSC material which should include almost every topics of UPSC CSE syllabus from basic to advanced.
Which notes our UPSC material include?
Before we move further and discuss more about UPSC material , lets have a look at the list of notes that we provide in this package.
Our UPSC material include the notes from india's topmost coaching institute for civil services exam preparation as mentioned below:
---
---
More Recommended Notes For UPSC Civil Services Exam Preparation
---
Every year these coaching institute help hundreds of aspirants to enter civil services.
There is no doubt , that these institute are the best coaching institute , which help aspirants to fulfill their dream of becoming an IAS/IPS officer.
Here's is what Tina Dabi (IAS Topper , 2015 Batch) had to say about her tips on UPSC material- " UPSC civil services exam preparation market is flooded with tons of books , study materials , notes , crash cources , mock tests etc. So a normal student gets very confused about where do we start , what to study and what not to study , which is good and which is not."
So, XaamAdda has brought to you the best UPSC material for IAS aspirants. These study materials will streamline things for you. So that aspirants can spend more time in memorizing , studying , understanding the thing related to IAS preparation.
So how these UPSC study materials will help to crack IAS exam in first attempt?
Before we go further , please have a look at one of the most famous thought of Gandhiji – "if i have the belief that i can do it , i shall surely acquire the capacity to do it, even if i may not have it at the begining."
Here is some food for thought:
In UPSC IAS exam the qualification ratio is only 0.1%, so how can we achieve success in first attempt?
Well, the answer to this question lies in the above thought of Gandhiji. That is everyone has the capacity to do anything. Provided he must take action & must have belief in himself that he can do it.
Any exam , however tough it is, can be cracked if right strategy and approach is followed. We don't deny the fact that UPSC civil services exam has a very long time process of preparation , but it certainly does not mean that the exam is toughest. As suggested by many IAS toppers , the IAS syllabus can be uncertain regarding horizontal and vertical view but there are certain boundaries of the UPSC IAS syllabus too so that it can be covered in time and the IAS preparation can become effective.
So we have undergone lots of hardwork to bring such study material which is best and complete in all around. And you do not need to refer any other study materials.
Keypoints of UPSC material pdf
Following are the keypoints of UPSC material pdf package:
1. UPSC Material PDF Are The Same as correspondent books
The notes provided are the same as correspondent course books (postal coaching)
2. Neat and clean pages
All pdfs have neat and clean pages with white background.
3. Printable pages
All pdfs are printable , so that you can take out print of important topics.
4. Complete syllabus
The UPSC material pdf covers complete syllabus of UPSC IAS exam and is tuned with the latest pattern of civil services exam.
5. Complete study material in single package
The main goal of these UPSC material pdf is to make available the complete UPSC IAS study material for those aspirants , who are doing self preparation and can not join expensive coaching institute due to some reason.
6. Easily understandable
The UPSC material pdf provided are easily understandable and we guarantee that these study material will not impose any burden on aspirants.
7. Ultra important topics / good stuff
The UPSC material pdf contains all important topics which are required to clear IAS exam.
8. Recommended by IAS toppers
IAS toppers are always role model for IAS aspirants because they learn from toppers a lot of things like their tips and strategy. It is extremely important for new aspirants to acquaint themselves with the notes , books and study material followed by IAS toppers.
Hence we provide latest and updated , most important complete study material as recommended by IAS toppers.
9. Best study material for IAS exam
Well, someone is rightly said: " well begun is half done" – this thing is truly suited for IAS aspirants too, as if students have best study material ,their journey of preparation becomes less hectic.
Hence we provide a vivid UPSC study material which is complete in all respects.
10. Provides conceptual clearity
These UPSC study material provides general understanding and conceptual clearity of all the subjects and topics prescribed in the UPSC syllabus.