Click Here To Get Vocabulary Ebook
Dear Students,We Are Here Sharing With You , The Collection Of The Hindu Vocabulary By Upsc Topper Ganga Singh.
This Vocabulary Contains More Than 2000 The Hindu Editorial Vocabulary Words. This Ebook Will Strengthen Your English Vocabulary And Will Improve Your English Reading And Understanding Skills.
The Meaning Of Words Is Explained In Hindi And English Both. Mnemonics Technique Is Aalso Given With Each Words. So You Never Forget The Word Once You Remember It.
SAMPLES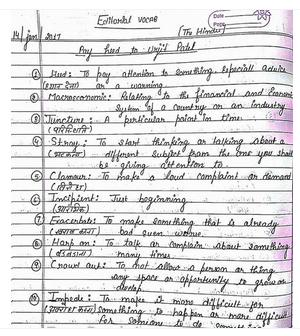 Reviews
Appropriate material for upsc preparation.

They provide awesome notes thank you xaamadda for such efforts

This materials are really helpful. Thankyou xaamadda for providing this materials.

It's very useful site from everyone . Xaamadda is worthy .. you are doing a great job .

GOOD MATERIAL …AFFORDABLE